Spreading disinformation on North Korea's satellite launch facility is a new low. So I got some answers about the site from 38 North.
On Tuesday and Wednesday, NBC Nightly News broadcast a story by Andrea Mitchell making lurid allegations that North Korea had restarted construction on a "missile site" only days after the collapse of the Trump-Kim summit in Hanoi. It was based on a report first provided to NBC by the Center for Strategic and International Studies (CSIS) allegedly showing that the DPRK "is pursuing a rapid rebuilding of the long-range rocket site" at its Sohae Satellite Launching Center. On Twitter, NBC quoted Victor Cha, the former Bush official and chief author of the report, saying ominously that "the activity they are undertaking now is consistent with preparations for a test."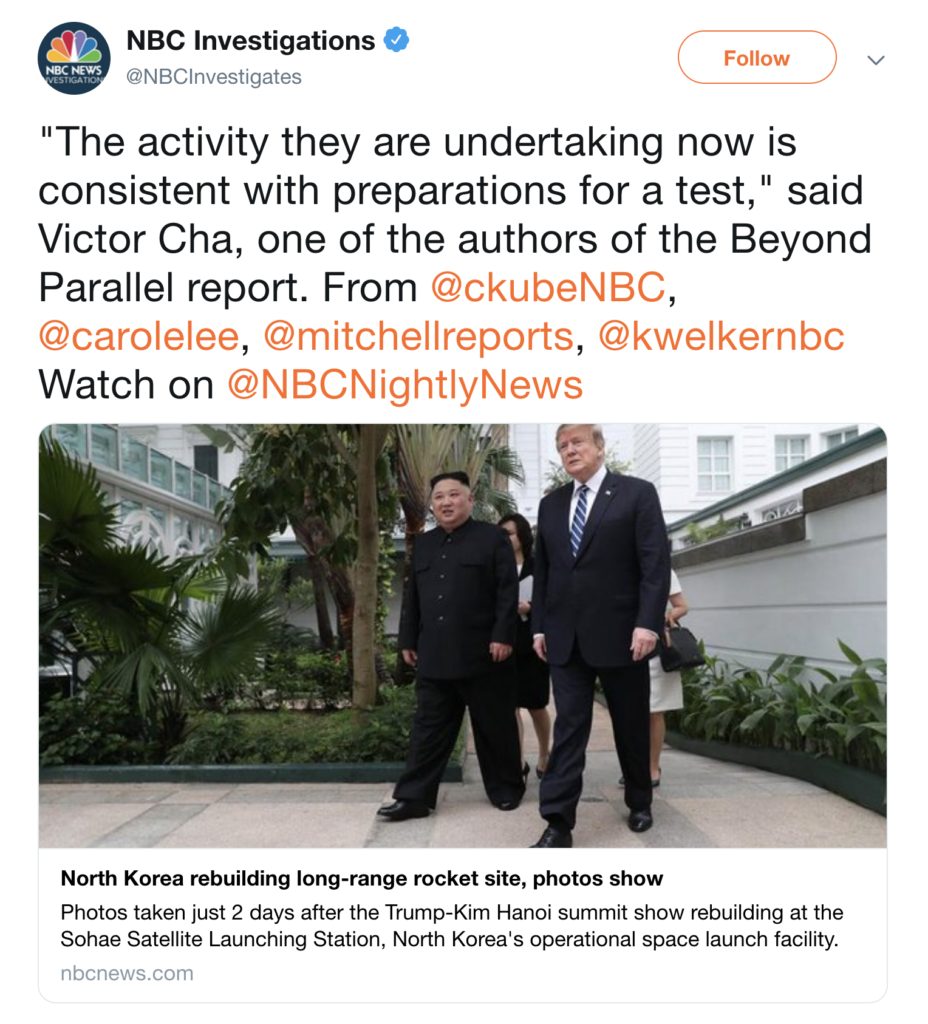 The website of think tank38 North then followed with a report based on the same imagery (from US intelligence contractor DigitalGlobe) and a report from South Korea's National Intelligence Service. But it came to a much softer conclusion. "North Korea has started restoring structures on the rocket launch pad at its Sohae Satellite Launching Station (Tongchang-ri)," its authors stated. "Based on commercial satellite imagery, efforts to rebuild these structures started sometime between February 16 and March 2, 2019." Today, it followed up with another report, based on satellite imagery taken on March 6, and this time stated that "Sohae appears to have returned to normal operational status."
But naturally, on Wednesday most of the media went with Cha's (and NBC's) more alarmist headlines. Suddenly, Twitter was filled with stories and posts that North Korea had "restarted" a missile site. Soon enough, CNN's Jim Acosta asked President Trump at the White House about what he said was "North Korean missile activity." Trump's reply: "I would be very disappointed if that were happening." Within hours, the addition of two cranes and the repair of a roof at the Sohae facility had turned into another grave threat to the United States from North Korean missiles – and a missile test that could happen any day, according to Cha.
The reports about Sohae were, in fact, disturbing because they underscored how upset the DPRK and Kim Jong Un may be about the sudden collapse of their talks with Trump in Hanoi. But strangely, few remembered that, when North Korea initially said last July that it was ready to dismantle Sohae, CSIS and other critics of the peace process said it was no big deal.
Here's what Su Mi Terry, CSIS's resident former CIA analyst on Korea, told VOA News back then. On a CSIS broadcast,
[Terry] points out the Sohae site is seen as somewhat obsolete, as North Korea has advanced to develop solid based fuels that can be preloaded, and mobile launchers that make it more difficult to track their missile site locations. "You can make an argument that, yeah, this looks like a concession of sorts, but it is still a cosmetic concession. We are not really seeing active steps toward denuclearization,' said Terry.

VOA News, July 26, 2018
So a year ago, closing the "obsolete" Sohae was just "cosmetic." But this week, according to CSIS, the slight improvements at Sohae bringing it back to normal use pose a grave danger to the United States. As Terry told the Washington Post's John Hudson yesterday, "This is a risky move, but we know the North Koreans have a high tolerance for risk."
But as I pointed out yesterday on Twitter, the US Defense Intelligence Agency, in a report earlier this year, classified Sohae as a satellite launch site that "supported satellite launch cycles in 2012 and 2016," NOT as a missile site.

Yesterday morning, when all the talk was about a "missile site" being rebuilt, I attended a briefing by Jenny Town and Joel Wit of 38 North, which is now connected to the Stimson Center. Town is the co-author of this week's reports on Sohae, and Wit is a former State Department official who helped negotiate the 1994 US-DPRK Agreed Framework under the Clinton administration.
During the Q&A, I asked them to define precisely what the Sohae facility is, what it's designed for, and how it might be used in the future. Here is what they said, as transcribed directly from my recording of the event. It is instructive and worth reading in full.
JOEL WIT: How can everyone dismiss the importance of the site, and now that they seem to be rebuilding parts of it, all the alarm bells are going off? Am I surprised that that's the reaction? No, I'm not surprised. I'm not surprised that people dismiss the importance of the place.

[Sohae] is a space launch center that was completed in 2011. There was a lot of work and a lot of money sunk into it. North Korea, despite what a lot of people think, has a serious space program. It's hard to believe, but it's true. Secondly, it has been used trying to put satellites in space and launching space vehicles. It has not been used for missile tests.


The connection is, or has been, that in firing off space launch vehicles there's a certain commonality in technologies between the space launch vehicles and a ballistic missile. They are not identical, though. So, you could argue that you can use space launches as a way to develop some of the technologies that are useful for ballistic missiles.


I should add that if tomorrow North Korea launched one of their typical space launch vehicles, which they've fired off in the past, there's no longer anything they can learn for their missile program. They've already learned everything that they can from that. Secondly, there's a rocket engine test facility where they can test engines that could be for missiles. That part, they could be doing that, if they restored it.

JENNY TOWN: North Korea's space program and satellite program is really a point of pride for them, and they really see it as their sovereign right to conduct space exploration. And the fact that they were able to launch a satellite into space before South Koreans did it was a big win for them. And the amount of investment they've put in – they built the Sohae Satellite Launching Station, it was originally completed in 2011 and they've done major upgrades to it over the years. It is sort of their showcase site, it is where they have their space center, their showcase space center.


So, it was surprising when they were willing to dismantle it to begin with, because they've never characterized it as a nuclear missile facility. They've always characterized it as a space facility. And this has caused problems in the past where, you know, if they had a moratorium on missile and nuclear testing, they would still go ahead with satellite launching because that wasn't a ballistic missile.


So, the idea that they would be willing to dismantle it has a larger symbolic meaning that they could have indicated they were also willing to give up their satellite launched and space program knowing it was provocative to the outside world. Now that they're going back and reassembling it, we do come back to this issue again, are they thinking they can still might do this, for whatever purposes, and how would that derail any diplomatic progress going forward?

Some of the criticism that it wasn't a big deal was that their engine testing facility isn't the only one North Korea has, although it was the largest one and the one they used for their largest liquid fuel engine.
The launch pad they have there is not the only satellite launch pad they have – they so still l have one at their Tongchang-ri facility, but that one was basically abandoned in about 2014 after they had successfully launched from the Sohae facility as well. So, some of the discounting of the value of dismantling Sohoe was that these weren't its only capabilities. But it wasn't meant to be a comprehensive move anyway, it was meant to be a confidence-building measure on something they felt was a showcase facility to build momentum for the political process.
JOEL WIT: The value was to close this loophole that in the past has upset agreements we had with North Korea. A case in point was in 2013, the so called Leap Day Deal, when they did a space launch and that destroyed the deal because they had promised not to launch missiles. So this was a closing of the loophole and sign to those of us who've followed North Korea that they might be willing to give up their space program, which I found really surprising.

(Click the link to read Joel Wit's Thursday update on the Sohae story)
OK, got it? It's a satellite launch facility where engines for ICBMs have been tested. But it's not a missile site. Yet here is how Andrea Mitchell reported the story last night on NBC, as I posted on Twitter: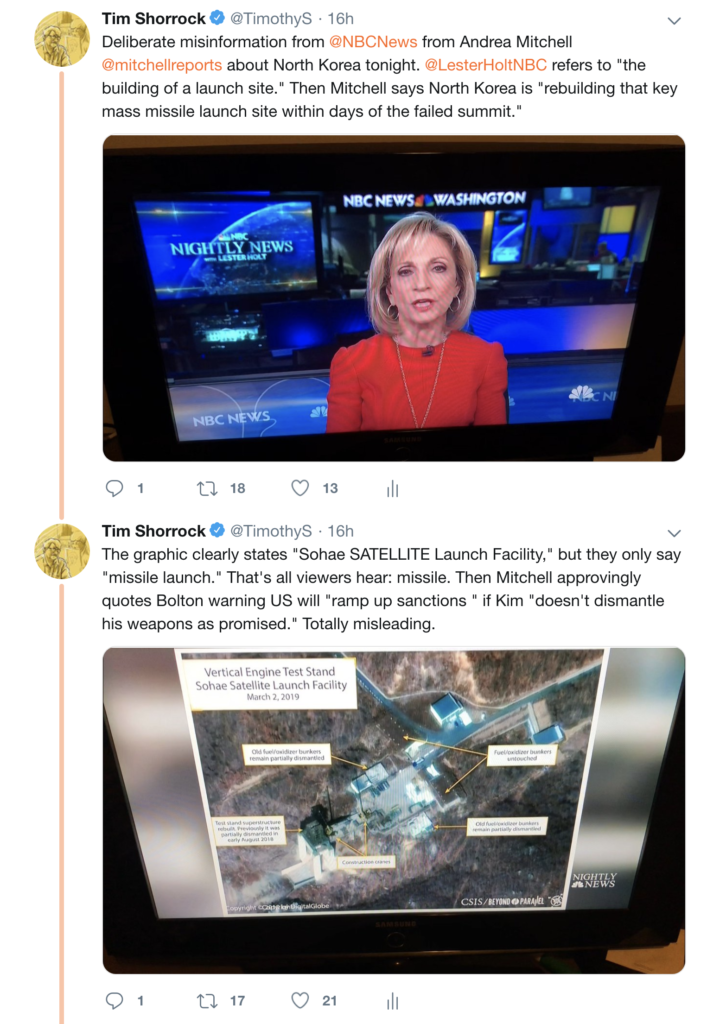 For contrast, watch this careful, thoughtful and accurate report from CNN's Will Ripley on the same story. This is the kind of reporting that's badly needed if Americans really want to understand what's happening with Trump and North Korea.
Today, there is more news about the DPRK's response to Hanoi that shows how Kim may be messaging Trump how important it is to get a deal and that he may not sit still if negotiations fail. According to the JoongAng Daily,
Activity was recently spotted at North Korea's Sanumdong research facility, associated with the country's intercontinental ballistic missile (ICBM) program, revealed Suh Hoon, the director of the South's National Intelligence Service (NIS).

The JoongAng Ilbo reported Thursday that Suh told lawmakers following a closed-door meeting at the National Assembly Tuesday that vehicles transporting supplies were spotted at the Sanumdong facility and "were seen as missile-related activities."

Sanumdong, on the outskirts of Pyongyang, is a key military site where at least two Hwasong-15 ICBMs, which could potentially reach the U.S. mainland, were manufactured.
The testimony from the NIS's Suh, alarming as it was, was probably linked to the Korean his government's plan to send him soon to the DPRK to get talks going again. According to reports today from Seoul, Suh has been dispatched by President Moon Jae-in to "travel to Pyongyang as soon as possible to arrange another summit between the leaders of the two Koreas."
In contrast, the stories from CSIS and NBC are clearly designed to drum up support for a return to the more confrontational, no-compromise "maximum pressure" campaign that brought US-DPRK tensions to a boiling point in the first place. That's propaganda, not news. Now, more than ever, truth and accuracy are critical.
Last night, I reminded my 20,000+ followers on Twitter about the frenzy that led up to the disastrous invasion of Iraq in 2003.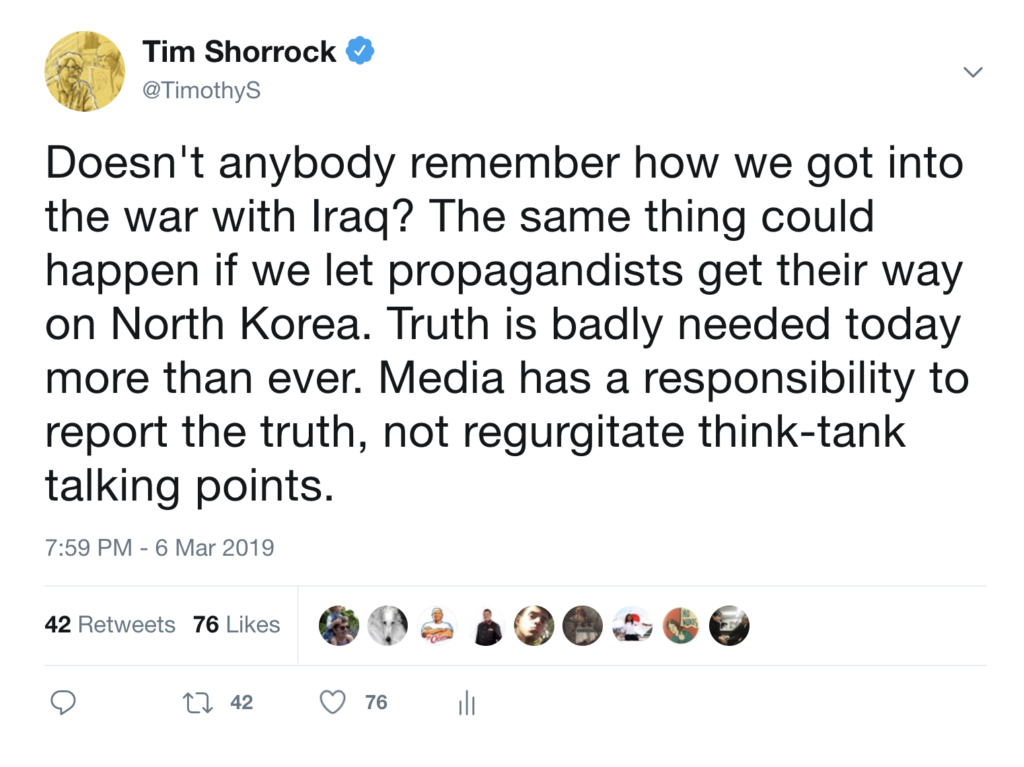 I mean that, every word.
If you like this reporting and my takes on North and South Korea, please donate what you can to my Korea Peace Process reporting fund at the Paypal button at the top right of this site.